« March 2005 | Main | November 2005 »
Mountain High
16 · Oct · 2005
I have been making a wall collage of old albums from my past, on my bedroom wall to fill the lonely space where my art should be.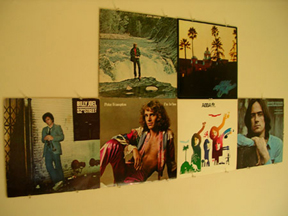 Currently I have James Taylor, ABBA, Peter Frampton, Billy Joel, the Eagles and John Denver. I posted this in my web blog and was surprised to find a lot of sincere John Denver fans have grown up and become goth, punk, new rock fans. But Denver's integrity stays within us and like the smell of crayons, brings us back to our childhood in safe, easy tones.
Aside from my parents 45 record collection of 1950's songs, John Denver's Greatest Hits was the first album I memorized. I sat in the back seat of my father's blue Toyota with my sister and brother, singing at the top of our lungs.
Take me home
Country roads
To the place
I belong
West Virginia
Mountain mamma
Country roads
At the time that this album was released my family was indeed living in West Virginia. I was four years old when we made that long drive from the east coast to Oklahoma. On the way I asked my mom if there would be mountains there. No. I wouldn't see the mountains for another five years until our family vacation near Carlsbad Caverns.
The house that we would be living in was in the middle of suburban America. My parents had bought it brand new right after I was born, but before the rest of the neighborhood had even been completed. The renters who had been there during our time in West Virginia were finally gone and as we pulled in the driveway I mostly remember the black lava rock wall that framed the front porch window. Years later
there would come a day when I would run up to that front door, slip and hit my head on a jutted piece of the lava wall, knocking myself out -cold.
As the 80's economics forced us into a two income household, and my siblings regarded their baby sister as a real mood killer, I took to music. Many summer days you could find me sprawled out in front of my parents floor model Panasonic stereo, ear pressed against the speakers, and later with large, heavy headphones wrapped around my skull making me look like a sickly mouse. The living room had a sculpted carpet of various shades of green and when my parents were gone at work my brother, sister and I would turn the place into our own dance club, blaring the stereo with everything from Kiss, Don't Try Suicide to Barry Manilow, Jump Shout Boogie.
Disco came and went. But the love of the singer songwriter stayed with me. A few years ago I dated a man who was the first person to put my words to music. As a surprise, he sat me down in his studio and
strummed his guitar while he sang my lyrics. I looked at his blonde hair, gold rimmed glasses and woodsy features and softly whispered to myself, "Wow. I'm dating John Denver."
The other day as I was placing these albums on my wall, I wondered if Rocky Mountain High would be too – something, I don't know. Too dated maybe. So I pulled out the album cover and started reading the lyrics.
I marveled over Goodbye Again "And if your hours are empty now, who I am I to blame? Do you think if I were always here our love would be the same? As it is the time we have is worth the time alone. And lying by your side is the greatest peace I've ever known" And Rocky Mountain
High "He was born in the summer of his 27th year. Comin' home to a place he'd never been before. He left yesterday behind him; you might say he was born again. You might say he found a key for every door."
Beautiful. Just brilliant.
And then I looked up in the upper left hand corner of the lyrics page. Just below the thanks was printed this sentence:

-Be sure to vote-
That settles it. I'm still in love with JD, may he rest in peace.

Penny Rene'

Never underestimate the power of words.
Posted by Penny Rene at 10:36 PM