« March 2006 | Main | September 2006 »
Happy Is The New Rock
30 · Jun · 2006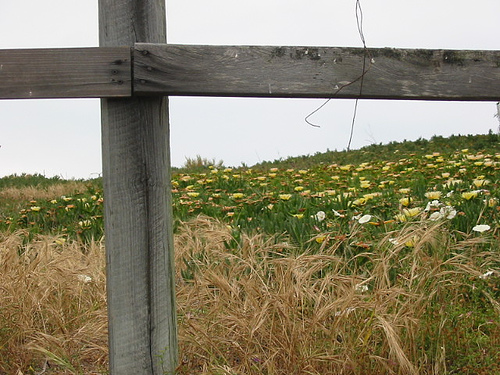 I had a great cup of coffee this morning, Mike will be home tonight for a four day weekend and August is napping peacefully. And as my grandmother rolls over in her grave, I feel like I should tell you...
I'm quite content. I'm happy.
Here I am wondering why I haven't written a milk memo, wondering if you think I'm boring, wondering if I have become what I feared most, wondering if I have anything left to say. All because what I feel is so new and so un-hip.
Happiness is not glitzy. It's not sarcastic or funny or even similar in any way to the thrill you feel when you connect with a lover or stand on a stage. Though all of those things are pretty cool. Happiness sneaks up on you in the sand in your hands at the beach, the clean dishes that someone else washed so you didn't have to, the smile during the 12th diaper change of the day, the knowledge that someone thinks you're sexy even if you don't. Happiness arrives when pretending is something you do when you pick up a toy to play with your kid and not something you do to avoid real life. Living a real life – now that's original.
Is happiness so simple that all the days before it eluded me because I looked for it to be dressed in a big belt buckle, plane tickets and backstage passes? Is real happiness marketable? Writeable? Readable? Will it sell? Will it sell? What does it sell?
It occurs to me just now as I am typing that this is how my whole life turned around in one year. During Passover last year Mike went home to see his family in NJ. When he returned, I picked him up from the airport that night and later as we lay in bed I felt the need to tell him something that seemed important enough to share, but also felt a little corny. "I just wanted you to know that I'm happy," I stumbled. I didn't mean happy in that moment. I meant overall happy with my situation, with him. The future was still completely unknown and I wasn't going to place any bets on where we'd go from that night on. But I knew enough to know that genuine happiness was visiting me and I hoped it would move into my life permanently. "I was thinking the same thing. I'm happy too," he said.
I don't think either one of us knew what that meant. It was such a simple thing. Big deal; lots of people are happy. But "lots of people" do not normally include me in this situation. For so long I had either been un-happy or confused or, as Mike was, downright bored. So, to find my dark cloud had moved on, at least for now, was like discovering an extra $10 bill in the pocket of every pair of jeans, every time I put them on. What luck! And How long has this been there? Deep down I felt I deserved a little happiness, but I dared not tell everyone for fear of jinxing it or worse, boring you to death with my gushing.
My friend Kim asked me if happiness is a general thing to obtain or is it subjective to each person. I think that understanding happiness is a bit like trying to understand God. To some people God is right there. And to others, he's just not. But the truth is the only way to love God is to accept that he is not what everyone told you he was. And then you stop focusing on all those unreasonable expectations. Not unreasonable because they are too high, but unreasonable because they are false.
Happiness is something that we try to define in such limited terms. A car, a house, a husband, a wife, a job. All that is great for sure. But me, I needed to find peace in all the in between moments. I needed to find it in me to laugh about the creaks in the house floors, the squeaky sounds the car brakes make and the fact that I don't get a regular paycheck.
A little while before I met Mike, the punk from NJ, I "met" Mike D. the singer songwriter and avid blogger in NYC. He wrote a few times about being high on life and like me, he seemed worried this news might be a bit boring in the world of rock. Sex, drugs, and rock n' roll? Well, no, at least not all that. Mike D is clean and sober as his voice fills music venues and radio airwaves now. We talked about his love for cheese and his best blogs recall his travels to places like Ethiopia and his friendships with the guys in his band. I suppose that Mike D could insert in all his interviews a few tales about how he faces his addiction head on every day or how rough it is to be adored by strangers. But I think we've all read enough of that crap, eh?
The famous, the rich and the honored will all tell you - none of that is what made them happy. Listen to that advice –it might be the only thing real about their media.
Being like the old me isn't bad. The old me had old stories. Stories you have no doubt read somewhere else. I actually feel more rock n roll now than I ever have. My hair is wilder, I never sleep, and thanks to breastfeeding, my tits are bigger.
Yes, I have entered a new phase in my life. But if this is what it is like to grow up, I can't believe I wasted so much time downing it. Eventually, I'm sure I will start buying copies of Spin again. And please, please lock me in the bathroom if I ever wear a fanny pack. But this feeling I get when I look over at Mike at as he washes those dishes, it is far better than drunken dancing at Groovy's after snubbing the band's drummer and not paying a cover charge.
Posted by Penny Rene at 10:26 AM | Comments (6)