9 · Jan · 2001
RO - X
"As for the rest of us, we carried away our sins, and made our way back to wherever it was that we called home to pick up the pieces of whatever was waiting.
Of course you can never forget what you've done, but we adapt, we carry on.
And me, I still believe in paradise, but now I know at least it's not some place you can look for. Because, it's not where you go, it's how you feel for a moment in your life when you're a part of something.
And if you find that moment, it lasts forever."
Thank you for reading about my experience. - PR
Posted by Penny Rene at 12:50 PM
22 · Oct · 2000
RO - Part IX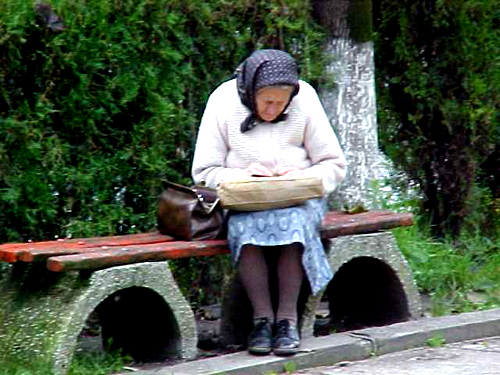 In my last days before returning to the states I began to fear how I would adjust back to "normal" life. I knew that the ENC students would have school counselors and each other to talk to, and David had his missionary family -but I would be going back to Oklahoma for a while…alone. I had a life changing experience. Who would I talk to? Who would understand? On top of that I would be leaving Nick there to finish out a year of service and the guilt of walking away from those who still needed my help was crippling.
Carmen did not want me to leave either. And I wanted to take her with me. Each day closer to my departure, I grew anxious. And then there was the most disturbing thought of all: What could I possibly do with my life now that could compare to this?
One of the main factors that played into my return to the states was money. We had none. Nick and I had been promised donations from various places and people that we never received. I have never been so poor in all my life. A $5 bill was to me then what a $50 bill is to me now. We did not have money to survive. Not enough to pay rent. Not enough to buy a souvenir. Not enough money to eat. Because of this, we decided one mouth to feed was better than one, so I left.
As much as I had gained, I knew I was still very weak. I had been broken. My heart was torn open and I felt undone. I know people talk about having a broken heart. But do not misunderstand. I did not feel hurt or upset. I was broken. All my preconceived ideas about who I was and what was important to me in life had changed and I had no idea how I would make myself acceptable to my family and friends back home. It was as if I had learned who I really was and unfortunately, it was not the person I was pretending to be for 24 years.
My struggle, those precious last days, was between my desire to stay in a world where I was alive and going back to one where no one really knew me, yet I had an obligation to return. I walked through the snow packed streets of Sighisoara and the silence was deafening. I prayed that I would never forget what happened there and that one-day God would let me come back.
At that time I wrote the following poem:
Normal
in one hand i tasted sugar
but the other was so bitter
i don't know which one was right
or what will be left
it seems they're interchangeable these days
but i know that in this room
i spent time with you
peering through the mist and fog
i can see your face on the other side
i'll hold this memory
between my teeth
to let it fall about
won't set me free
who's to say what's normal
at their given hour
God, don't let me be normal
anymore
we pounded our fists in the air
confession got us everywhere
i don't know to use my mind
so i used my heart
it seems they disagree a lot today
alone here in this room
i knew a love with you
when i peer through the fog
i see your face on the other side
penny rene' 11 - 95
The morning I left Romania, Bucharest was covered in snow and I almost missed my flight. At the gate, I hugged Nick and thanked him. He had given me the greatest gift I had ever received – an opportunity to see with new eyes. God used him to bring me to Romania. No thanks could be enough.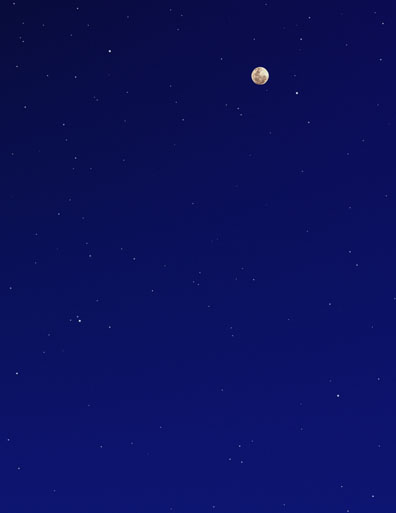 The Longest Night
I arrived home in time for the holidays. I sat by the Christmas tree that year and cried over the presents that my sister gave me. This was my families' first clue that I was not the same. I was to discover that crying was something I would do a lot. It was one of many things that were different about me. The strange thing was that I discovered these differences along with everyone else. I was often so surprised at my feelings that I would become frustrated. My natural defense mechanisms no longer worked. Emotional walls that used to protect me were gone and I was left to deal with my fears and dreams face to face.
One example of this is the simple pleasure of seeing a movie. Before I left for Romania, the only movie that had ever got the best of my emotions was Born on the 4th of July. But when I returned, I found I could hardly stand any type of sadness at all. Sitting through stories like City of Angels, Saving Private Ryan or Evita would tear me apart. I literally had to go into bathroom stalls and hold myself together with my own hands. There were days when I could not pay attention in business meetings because I kept having little flashbacks of this other life I had led that seemed far more real and important. I could barely control my impulses to scream at entire groups of people who complained about everything from the weather to the quality of sound on their new car stereos.
Back in Nashville I had landed a very good job at Caffe Milano and was quickly promoted into a position of considerable responsibility. During the day I came in contact with the largest sums of money I had ever dreamed of and at night I watched music celebrities from every genre grace our stage. My name alone became a backstage pass, but this did not satisfy me. I felt I was leading a pointless existence, making the rich richer and ignoring the things that mattered most to me. One evening I sat eating my dinner, specially created for me by our staff as I watched Kevin Bacon and his brother Michael, not ten feet away on stage. It was a good show and I was quite aware of my good fortune. But at the same time I was depressed and I had the most frightening thought "What if I always feel this way? What if nothing will ever touch me again like the people and children of Romania did? " It was a terrifying thought.
All these years since I have left Romania, there has been an underlying sadness in everything I did. It wasn't until 1999 that was able to express my deep thoughts about Romania and finally begin to heal. The following is part of my journal entry from that day.

17 May 1999
The day slips by without even a nod from me…Last night I watched the video of the ENC Romania Studies Programme. The photos are amazing. For those who were there, the truth comes from Matt Hanlon's interview. I can see the sadness in his face. It is the only trace of understanding I have seen in four years. Possibly, like me, he has a small spot in his heart, not visible to the human eye that will never be warm. – A pocket of memory that will never be understood. We have sadness, a regret that we cannot let go of for fear it may be the very glue that holds us together.
It has been so long. I rarely bring it up in conversation anymore. What can six months compare to four years? In truth, it is though I lived another life, while those who knew me here slept. To explain… oh, what is there to explain? … I often think of the day I came back to America. Getting off the plane, long hair pulled back, overalls, hiking boots, pale skinned, thin as a waif, tired, and very quiet. I was suddenly aware of the well-oiled machine I was a citizen of.
I wanted to wave a flag, sing O Beautiful, and murder each well meaning friend all at once! There was somewhat a feeling of betrayal from every direction - even from myself. My feeling betrayed me. Every time I had to leave a movie theater crying, I would ask my reflection in the bathroom mirror "What have I done to myself?" And when my parents or friends tried to console my longing for my new friends, (now scattered across the globe) I had no compassion for them. They were all appearing as heartless fools who were ignorant of real troubles, a worldview, or lacking in gratitude for the lot they'd been handed.
I finally quit wearing my sweaters from Braun Castle. I started eating again and I bought new clothes. I even, for a while, tried to fit the new me into the life plan that the old me had laid out so carefully. I threw myself into the sometimes-glamorous race of the entertainment industry. My motto was Deny! Deny! Deny! But I was never very good at it. The pain of broken dreams was all too real and only served to remind me of orphans with large brown eyes wearing oversized diapers. Everytime a conversation got too ambitious, I thought of my teenage Romanian friends who thought the key to a happy life was to leave their own country. And every fleeting friendship caused me to miss Matt, Anita and David more and more. I drove to my high paying, high profile job, often crying.
When Nick and I began talking again (after he returned to America) I stopped crying long enough to marry him and fly to England. It seemed the only cure. He has been there, I told myself. And he will take me back. It never entered my mind that I could go back alone. I did not believe that God would call someone like me to Eastern Europe. When the dream of returning to Romania began to fade, I found reasons to make it OK. But as well as a fear of being poor, I had also developed a fear of being underappreciated in Romania. This did not mix well with my acute sense of patriotic prejudice in England. One more American joke and I might have gone postal.
I suppose there are those, some of who was there, that would say this experience was good, that they are better people for it. That is a good package to sell. And then there are those who look back with dissatisfaction. They remember being hungry. They remember the smell and they swell with pride as they say they are glad to be American. But I remember it all. I seem to feel all those things at once, knowing, simply, that I am changed. I may never be able to pinpoint the differences but I feel, think and believe differently than before. Am I stronger? Weaker? Yes. Yes. I cry much more easily than before. But I can face uncertainty now and I am more willing to fight. Am I closer to God? I liken myself to King David – after God's own heart, but still very stupid. Will I go back? Will I enter the mission field again? This, I do not know. I have often tried to believe others who insist this is my calling…
Full circle is what I've done. The fact remains that my time in Romania changed me in ways that no amount of words can convince you. The wounds are deep and I do not wish for them to heal, for fear the impact may be forgotten and the veil through which I view my life may disappear.
For four years I was afraid that I would turn back into the person I was before. I was afraid I would forget. It was easy to think that after all that, I must be "done". I wanted to end on a high note, ya know? (:
I think I wasted a lot of time feeling sorry for myself. It rolled over into everything I did. I can only guess that I would have fared better if I had gone to counseling that spring after I returned to the US. Certainly, I needed someone to look me in the eye and say, "You are not done yet!"
I cannot tell you when I finally realised this. I did go to counseling the summer and fall of 1999. I also have spent a great deal of time alone in my little house in Nashville. And if I had a dime for every time someone has told me that I have led and interesting life… Hee hee. These people have obviously never met a Swanson or a Tarrant! But somewhere, even through my own self-pity, God got through. I have come to understand through this experience and others that the beauty of a life is not only measured by the amount of happiness one claims to have experienced, but also by the hard time spent breaking down barriers between people. I have concluded that every time my passport is stamped I am doing something to better the world. Every time I mention Romania, it is my hope that someone listening feels a bit closer to kids on the other side of the world because I was there. I hope you are thinking you might want to go.
It is impossible to relay the full story of my experience through these memos. – Especially since this isn't at all why milk memo was started. But it seemed only fair to let you in my head a little, to let you know where I am coming from. Some of the people on this list have known me a long time and have never heard me talk about that time in any detail. Others have asked me out of curiosity, I suppose.
I know you want to know if I'll go back. But a lot has changed since 1995. What I left behind is not there. Carmen is a teenager now – a young woman. Dorothy has seen many, many students through the ENC program. The high school kids are adults – possibly married and moved away. There is probably a McDonalds near the pizza place I used to frequent. But there are still children there who need someone to hold them. The trains are still running. Dorothy is still Dorothy. And I bet it still snows like crazy.
No, I'm not done yet.
Penny Rene'
Posted by Penny Rene at 09:12 PM
20 · Oct · 2000
RO - Part VIII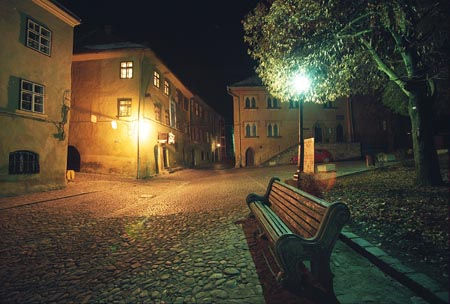 Sighisoara
Living in Sighisoara opened up a different world for me. Obviously, being around other young Americans was good. We had somewhat similar feelings about being in a foreign country and not having the luxury of television forced us to entertain each other by playing games and talking. A few times we stayed up late playing Truth, or 20 questions, which are excellent ways to get to know people. Being stripped of the things that normally help us distance ourselves from each other, left nothing but honesty and an easy path to discover our real selves. Sometimes, all we did was tell each other things we missed about home. Sometimes we talked for hours about how much we loved the kids we worked with at the spital, the orphanage or the kids like Carmen and her sisters.
During that time, my relationship with Carmen, Daniella, Genica, and Camellia deepened as well. Carmen was my constant companion, even spending a day with me when I got sick. I had gone to David and Nat's house and on the way began feeling ill. By the time I arrived, I had chills and felt I couldn't move. Since David was leaving for the day, I lay on his bed and prepared to be incapacitated for a 24 hour flu. Nat gave me his copy of Of Mice and Men to read, which I did. When she heard I was ill, Carmen stopped by and...... stayed. Since my Romanian was so limited, our time together was mostly spent smiling at each other, saying things like "This is a good day. It's cold outside. I'm sleepy. That's beautiful. How are you?" That day that I was sick, I drifted in and out of sleep and every time I opened my eyes, I saw her sitting in a chair smiling at me. Watching over me, I guess.
I was always amazed at how generous the girls were. There are kids who have great parents and still become selfish. And there is Carmen and her sisters with so little guidance, who held my hand as I walked through the most difficult time in my life up until then. They have no idea how they inspired me.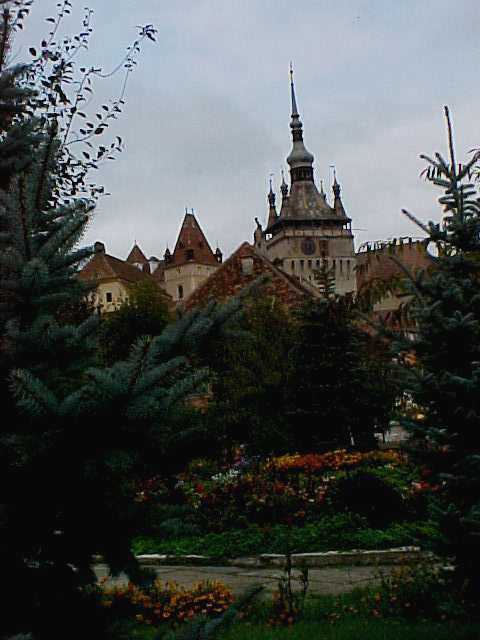 Living with Dorothy was also an enormous relief. Because I was not one of her students, Dorothy and I were able to talk freely. Unlike my previous housemates, she took steps to make me feel welcome, doing things like leaving me a package of my favorite hot chocolate on my pillow and giving me a wool Romanian sweater of hers that I liked. We had great conversations in that month. I looked on Dorothy as my mentor. Her independence and willingness to traverse through Romania, simply because God told her to, baffled and amazed me. She represented intelligence and strength and she challenged me to become a better woman, to really do something with my life. I was always tickled to see how her college students misunderstood her. They did not hear Dorothy talk about lost loves from her past or the funny stories regarding her family back in the UK. There is a different, even mischievous side to Dorothy that is often overlooked by those who first come to know her as "Professor".
I was lucky to hear both sides of the college students' Romanian experience. Dorothy talked about her concerns with the students and they, in turn, spoke to me about how they felt and what they hoped to make of their time away from their real lives. Every student was unique, the cream of the crop from Eastern Nazarene College. Not the best students in the traditional sense. Maybe they weren't the people who spoke at graduation or the ones voted most likely to succeed by their classmates. But they proved themselves to be the kind of people who come through in a crunch – young men and women who sacrificed 4 months of their lives at a time when most people their age were only thinking of who to date or what restaurant to go to next. No, these people who became my friends, got up in the morning, dressed in cold rooms, bathed in shallow tubs, struggled with a new language and culture, far, far away from the safety of home to be with the smelly, unlovely, yet beautiful children in Sighisoara, Romania.
And they participated in other ENC founded programs too, such as the geriatric program for less capable, elderly. There was also CoffeeHouse – a weekly makeshift American style gathering of the ENC students and local high school students. The high school students were given extra points in English class for showing up and talking (in English) with us. Dorothy and other ENC students also taught English Club in the afternoons to grade school children. Some of the street children attended English Club as well. In the promotional video for the ENC Romania studies program Dorothy mentions that the possibilities for social work in Sighisoara are limited only by the volunteers imagination.
Coffee House, The Street Children's Programme and the Edge at Radio Total were all founded by those in our group from 1995. Each program was organised from an idea into reality, within the unfamiliar tedious Romanian framework. Whenever I watch MTV's The Real World or Road Rules, it reminds me of us back then. What do you get when you take 15 strangers, put them in Romania for 4 months, take away all the comforts of home and ask them to help each other and the community around them? That's when people stop "making nice" and get real!

Music
Aside from working at Radio Total, it was quickly confirmed that music is an international language, not just between Romanians and Americans, but also with all the American students who came from various states. Songs play in my mind from each person or event, carrying those many emotions I was experiencing for the first time. So attached are some songs to those memories that when I hear them even today, I can easily become overwhelmed with the emotion of those days. Maybe some of you have seen me tear up while on a long drive and a song comes on the radio. Or maybe I have mentioned how much I love a song and then glazed over lost in thought, while it played.
Three particular CDs are especially enamoured with those bittersweet days. One day I was at David, Nat and Thom's house and we were all sitting around the kitchen talking. We were listening to the Counting Crows August and Everything After CD and when the song Raining in Baltimore came on, we all became so reflective, softly singing along, but at the same time, I felt we were completely unified. The words rang out
"These train conversations are passing me by /And I don't have nothing to say
You get what you pay for / But I just had no intention of living this way
I need a phone call
I need a plane ride
I need a sunburn
I need a raincoat
There's things I remember and things I forget / I miss you / I guess that I should
Three thousand five hundred miles away / But what would you change if you could?
I need a phone call
Maybe I should buy a new car
I can always hear a freight train
If I listen real hard
And I wish it was a small world / Because I'm lonely for the big towns
I'd like to hear a little guitar / I think it's time to put the top down"

Even when the song ended, we sat there a little longer, maybe not wanting the moment to end.
I would sing along to some of these songs in the mornings when I was alone and think about what effect this experience would have on me throughout my life.
And lastly, the CD that became somewhat of the theme music for many others and me was Sarah McLaughlin's Fumbling Toward Ecstasy. One night David and I sat relaxing with Matt and Anita in their apartment, with only candles for light and listened to this CD over and over. We talked about what the songs meant to us, and in particular the song " Elsewhere" I asked them what they thought of when they heard this song and I will never forget Anita's response. She said she thought of a particular child at the orphanage and the feeling of holding him close, knowing that none of her friends and family would understand why this was heaven to her. Today, as I look back, I realise those are the perfect words to describe that time in my life and what it has come to mean to me.
Elsewhere -
I love the time and in between the calm inside me in the space where I can breathe
I believe there is a distance I have wandered to touch upon the years of
reaching out
and reaching in
holding out
holding in.
I believe
this is heaven to no one else but me
and I'll defend it as long as
I can be
left here to linger
in silence
if I choose to
would you
try to understand.
I know this love is passing time passing through like liquid
I am drunk in my desire
but I love the way you smile at me
I love the way your hands reach out and hold me near…
I believe..
I believe
this is heaven to no one else but me
and I'll defend it as long as
I can be
left here to linger
in silence
if I choose to
would you
try to understand

Oh the quiet child awaits the day
when she can break free
the mold that clings like desperation.
Mother can't you see I've got to live my life the way I feel is
right for me
might not be right for you but it's right for me..
I believe...
I would … like to… linger … here in… silence
if I … choose to… would you … try to …
understand...

The Other Side of Despair
Something strange began to happen to me in that last month. I got on the Metro and did not feel out of place. I looked forward to conversations with strangers on the train. I enjoyed my walk to the center square. I started saying "Buna Ziwa!" to old women I passed in the street. I didn't get caught up so much in the ugliness, because once I saw the beauty, it was so intense, I was ashamed it escaped me before. It was Nick who pointed out to me that I was coming to a peak in the up and down road of adjusting to a new culture. In short, I was starting to like it there. I learned a valuable lesson then that I suppose many missionaries and other world travelers are privy to. Getting over yourself is the key to open a door in your heart that otherwise remains closed. Behind that door is your capacity to love.
David
It would take a novel to describe the friendship and love that I found in David Tarrant. And even then, I would not be satisfied. When Nick and I broke up and I moved to Sighisoara, I developed a friendship with David, who is Dorothy's nephew. David came over for a visit from his home in Scotland and was not part of the ENC programme. We hit it off immediately and much of my last days in Romania were spent with him and Matt & Anita. David's way of talking and writing make each word sound like poetry. His imagination is incredible and we would often joke about running away together whenever things got stressful. Sighisoara was the perfect backdrop for our wildly romantic dreams.
One night, when there was to be a full moon, a few of us went to the top of a hill with a beautiful view and each of us was to display a talent. Long after Matt and Anita sang "Ice Cream", I read poetry and Nat performed a Shakespearean monologue, David and I stayed long into the night staring up at the sky and talking. Suddenly, I glanced up to notice a very small black creature with black eyes and antennas sitting on David's shoulder. Trying to remain calm, I pulled my hand into my sleeve and told him to stay still while I knocked this creature off. I hit it once, but it held on, so I hit it again. He felt the weight fall and we both jumped up screaming. The hardest part was describing to him what I saw. Yes, I saw antennae. A bat, we later figured out. We laughed every time we retold the story.
As you can guess, not everyone embraced our relationship. Though David and I was aware of the reality of our seven year age difference and miles between our home countries, Dorothy was understandably cautious and asked that we try not to distance ourselves from the rest of the group. However, to her credit, she never made me feel that I was being foolish nor did she dismiss my feelings. If anything, she was understanding and tolerant. I am grateful still for her support, because over the years, David and I have remained close friends. We have encouraged each other through many phases of our lives including college, marriage, family, self-discovery and an even deeper investigation of our relationships with God. Even when I have clearly made the wrong decision, David continued to love me just as I am.
----------------------------------------------------
By the time my last week in Romania came, I was even feeling a bit emotional about leaving the Scott's. Though we had our differences, the Scott's were doing their best under strained circumstances. I was not adequately prepared to deal with a new culture. And they were not prepared for someone outside the realm of normal missionary procedure. I had fallen through the cracks. And who was to blame for that? We all were.
Perhaps they could have been more accommodating. I would have liked for someone to take my sadness seriously and not merely as a phase I would soon get over. Perhaps I could have been more understanding. Did I seriously expect an entire family and/or mission organisation to change for me? I wasn't even a member of their church. And did I do much else besides complain the first 2 months?
Over the years, I have come to understand that what may be "right" and acceptable behavior in my eyes, is quite foreign to someone else. I cannot expect someone to understand my feelings based on the type of passport they possess anymore than I can expect all single women my age to have similar views on dating or all Christians to believe as I do about the church. Relationships, no matter how great or small, are at the mercy of our ability to compromise and communicate. Both these things I, regrettably, learned as of late.
***The conclusion of my Romania story is in the next memo.
Posted by Penny Rene at 08:43 PM | TrackBack
15 · Oct · 2000
RO - Part VII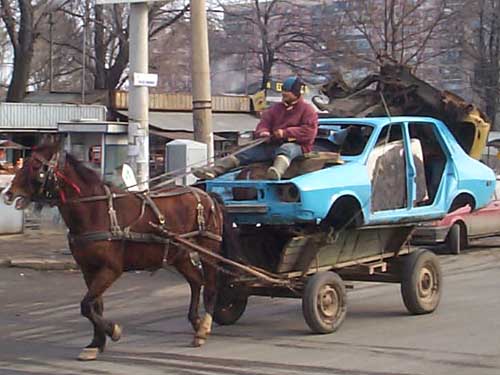 The Car Crash
The car is easy enough to explain. Simple really. One night our friend, Holly, who lived with me at Viilor, wanted to go with us to the studio and watch the show. We got permission to borrow the car, which belonged to the organisation, and away we went. Nick was driving, I was the front passenger and Holly was in the back. Upon entering Piata Unirri, where the rows and rows of beautiful fountains are, we were coming up behind some other cars stopped at a light when I heard this sound: Thump, thump, thump! This, I quickly realised, was the sound of Nick's foot slamming the brake pedal into the floorboard, meeting no resistance or reaction from the brakes themselves.
His choices were clear - hit the cars in front of us or turn into the fountains. Looking back now, it was pretty exciting and funny. We slammed into the side of the white fountain. After determining that no one was injured, Nick let out a string of cusswords for what seemed like a full 2 minutes. Holly, who had not heard Nick say anything but kind words before, remained perfectly calm while I started laughing hysterically.
Within moments, the police were there. They had, we guessed, been across the street and seen the accident happen. Thinking Nick might be arrested, I got a little nervous. (We had been told that in traffic accidents, all parties were immediately arrested until the matter was sorted out) The officers could not understand what were saying at all, so attempting to explain why we drove into the marble fountain was useless. The hand talking and charades went on for about 10 minutes. We finally figured out that they just wanted us to leave. Of course, none of us wanted to get into a car without brakes. But one officer got behind the wheel backed the car up a bit, drove forward, pressed the brake pedal, and the car stopped. He demonstrated this a few more times and again said "Vamoose!" So we did.
We still don't know why the brakes failed us. When we took the car back to Viilor, we were glad Holly had been with us to back up the story. Otherwise, this too, would have been dismissed as a lie.

The Cemetery
Some time before my final run in with the Scotts, Nick and I went for a walk in a park and got into some trouble. Nick noticed that on the other side of a chain fence was an old cemetery. When we came to a place where there was break in the fence, he wanted to go through and look around. It took some convincing, but, since it was obvious many people had walked through this fence to get to the cemetery, I figured it couldn't hurt. I jokingly told Nick that if we got in trouble, it would be his fault.
The Cemetery was beautiful. The headstones were decorative, with intricate pictures of the deceased engraved on each one. Tombstones older than my country, lined paths more reverent than any church I had ever been a part of. I was glad we came. It was nice - until we got caught.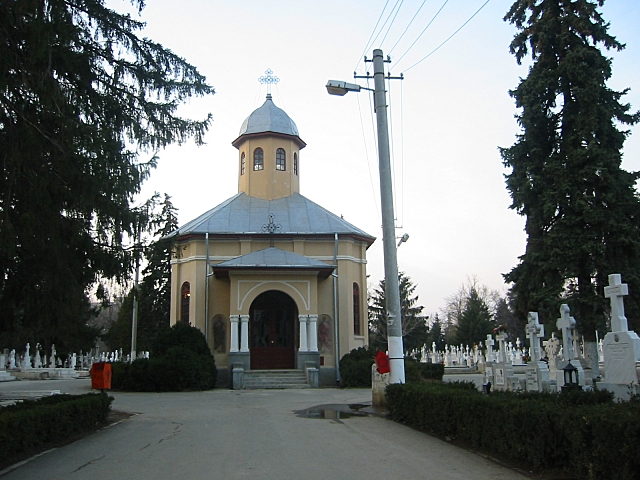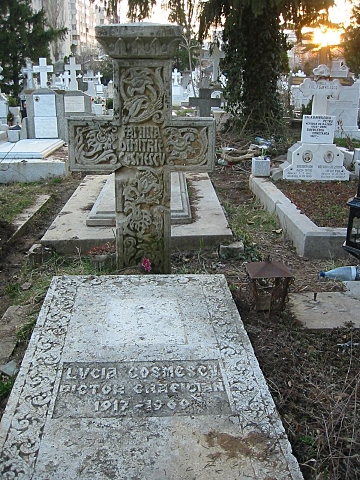 We had only been there 10 minutes when I said we should leave because it was getting dark. Putting me off for one last look, Nick was around the corner when a police officer or security guard came running up to me. I could have easily run away, as he was so out of breath he had to take a moment before he could talk. But, since we hadn't done anything wrong, I figured he was just telling us to leave. Not so. We were told, in Romanian, that we should've come through the front gate. Right, well, sorry for the inconvenience, sir. We'll just be on our way. No such luck. The only two words I understood as we were interrogated for the next hour were "infraction" and "liberate". In short, they said we broke the law and were to pay a fine of $100 US dollars, or they would shoot us.
There we were, broke, scared and being threatened. Nick had the idea that we would pretend to not know how to speak any Romanian. This took little effort on my part, as I had been an unwilling student in our language class. We sat on cement benches, surrounded by uniformed men, as the event unfolded from the examination and confiscation of our passports, to us trying to prove that we wouldn't be able to pay the fine, to one officer miming the consequence. He pointed to his head as if he were holding a gun and pretended to fire, complete with sound effects and the snap back of his body. It was at that point that I snapped.
I said "Oh yeah? You're gonna shoot us? Well come on! We didn't do anything wrong! This is stupid! You're a liar! You're just trying to rip us off! You are no better than the beggars on the train! You have got to be kidding! This is not happening! Well, I'm not giving you any money! We don't have any!" I was yelling by then and stood up. Nick was trying to calm me down, but I felt we had nothing to lose. Whether they were joking or not, none of it was funny at the time. It's not like some attorney was about to arrive and announce that it would all be handled by the US Embassy. If this was the end, I was going to fight every step. At one point they were motioning to leave, and I stood again. "I can go? Let's go, Nick." But he understood better than I. "No, I think they are saying you can go, but not me." As if I was going to go get money and return!? Who would give me money? The Wandlings? The Scotts? Leave him there? Whatever. "I'm not leaving without you!"
By that time I was more angry than scared. But not long after they let us go after paying the equivalent of $5. We guess they just gave up. We had frustrated them enough. Now, I realise I was right and so was Nick. We can never be sure what those men were capable of, or if they had any authority to hold us as they did. They probably were just trying to rip off the two Americans. But Nick's plan worked and when they let us out the front gate, we waited 'til we were out of sight before we hugged each other deliriously and laughed about our escape!
Of course we told the story to our friends and the other missionaries. For all the prepration that is supposedly put into Nazarenes In Volunteer Service, no one seemed to care that we might've been in serious danger. In fact, no one but the American students from Boston who were living in Sighisoara and thier professor ever asked me if I was OK. Those students, who included Matt and Anita Hanlon, Nat McIntyre, Professor, Dorothy Tarrant and her nephew, David Tarrant became close friends. So much in fact, that my last month in Romania, after John Scott finally did renew my visa, I accepted Dorothy's offer to move in with her. I must confess, I was about to ask her for help, when she spoke first. Still, I am forever grateful as this move is what led to my happiest memories of Romania – the last month is Sighisoara.
Posted by Penny Rene at 08:10 PM | TrackBack
12 · Oct · 2000
RO - Part VI
Ah, the Wandlings.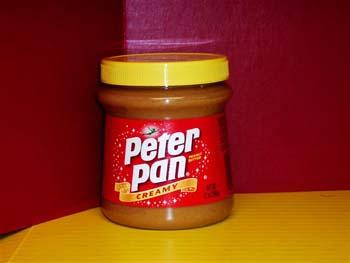 I moved into Viilor house about a month after I arrived in Romania, on August 27, 1995. The place was nice by Romanian standards. It had a parlor, a dining area, heat, running water, a washer and dryer and the means to cook a meal. The hosts were Donna and Larry Wandling, US citizens in their 60's who had devoted a few years to working with the Nazarene church in Bucharest. Upon meeting them, I found them to be courteous, traditional and distracted. Though, in any other circumstances, these people might've been friends of my parents with whom I got on well with, in the fall of 1995, the Wandlings, in a very short time became a stumbling block for my adjustment into Romania. It all started with my room.
My room was part of the attic, small and cozy. There was a twin bed, an open place to store my clothes, a small table and chair, a shelf by the bed and one square window that opened up to the roof. As Donna showed me around, she seemed not at all eager to provide any of the normal hospitalities associated with American households. There was no "If you need anything, let me know." Or "We're glad you're here" If anything I was given the impression that my arrival was inconvenient. It was a pain to find me pillows and enough blankets for my bed, in fact. I was to keep in mind that everyone around there woke early and prepared their own meals. A few rules were laid out about cleaning up after myself and not to wake anyone up when I came in late after our show. "Welcome" I said after she left my room.
The Wandlings and I disagreed on numerous issues aside from what went on in the house. I usually avoided them altogether, seeking refuge at Nick's apartment and only leaving my bedroom at Viilor in the morning hours when everyone had already left for the day. It was clear that Larry and Donna felt uneasy around me as well and I will probably never know why they were selected as the "hosts" of the house. They seemed to have no desire to make it comfortable for anyone but those who were part of their select group of friends. Though I have been a Christian since the age of 12 and I received my early lessons about God in a southern Baptist church, I had been raised by parents who gave me a good deal of freedom to be my own person and my moral judgement was rarely, if ever, questioned once I became an adult. Having to answer to the Wandlings and the Scotts was a new concept to me and I did not welcome it.
Ten days after I moved into Viilor Nick and I broke up, deciding that we weren't in the best situation to work on a romance and -to be honest- I was beginning to feel like I shouldn't continue dating someone who wanted to go into foreign missions. (Since my test run was feeling like a disaster) However, we still did everything together including shopping, preparing meals, washing clothes and planning each weeks radio show. At one point, we were instructed that Nick was not to be up in my room when no one was home. We were not to be alone "unsupervised". I was also not to "tamper" with the downstairs stereo except to insert a CD when no one was home and press the play button. I had the least amount of money I had ever tried to live from and I had the least amount of freedom and support from my hosts. House rules sprouted weekly and I was informed only after I had broken them. Had I known that I would be subject to such household rules before I came, I surely would have reconsidered. I have often wondered if this was why God kept me in the dark about it before. Perhaps it was part of the plan.
The icing on this stale cake was when I was accused of "stealing" a scoop of peanut butter from the Wandlings. Yes, I said "peanut butter". When this was first brought to my attention during a particularly stressful meeting with Margaret Scott, I had no idea what she was talking about and was so insulted I was beside myself. Each housemate had his own food and section of the cupboard. I was allowed to eat the oatmeal left behind by a previous tenant, but the peanut butter was Larry's. I do like peanut butter and I did want something more than oatmeal and toast for breakfast, but I never touched it. The whole thing was hard for me to believe. I told Margaret that I didn't do it, but she didn't seem to believe me. I was extremely angry and cited my reasons, saying things that I doubt Margaret was used to hearing. If I had gone into a mad fit and hurt someone, I've no doubt I could plead temporary insanity and get away with it. I felt delirious with disbelief at everything that had happened between me and the Nazarene organisation there. So much was wrong and the fact that peanut butter was a reason for finally deciding to ask me how I was blew my mind. I was given an ultimatum. Abide by the rules or find another place to live.
I had never been accused of being a troublemaker. I was the good kid in school. I loved God, my family, and my friends. I respected authority. But in the Holy Prison of Wandling, I was a Bad Seed. It was a no win situation. I believe it was at this point that someone brought up the issue of my visa renewal. John Scott was going that week to renew visas for several of the workers including Nick and I. I had to decide "what I wanted to do" within a matter of days. At one point John called me on the phone and unless I could measure up, he said he would not renew my visa. This would make me an illegal alien in Romania. Does that sound like a threat to you? It did to me. And though I know friends of the Scotts are reading this now, I stand by this story.
So who did eat the peanut butter? Well, Matt and Anita Hanlon stayed over one night, (at the Wandling's offer I might add) and the following morning when I told them they could help themselves to my food for breakfast, they thought the peanut butter was mine and had a bit. I never knew this until a week later when I recounted my horrible meeting with Margaret and Matt realised his mistake.
Two things happened during that time which probably did not help our relationship with the household. A) We crashed a community car and B) We were unofficially arrested.
Posted by Penny Rene at 07:47 PM
8 · Oct · 2000
RO - Part V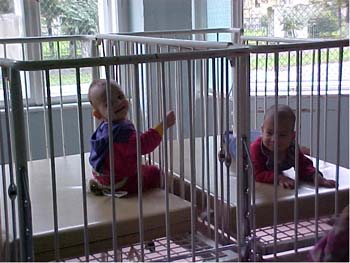 We were cautious, stepping inside the room that first day. Already, babies were crying, some of them screaming. Miriam introduced each child, all in cribs, wall to wall. No child, that I remember, was able to talk, and though they all looked around 8- 12 months old, I learned that most of them were older. Their growth, physically and mentally had been stunted due to neglect.
--Neglect of regular contact with a caregiver. Each child wore a cloth diaper, bound so expertly and tight that it restricted movement. All of the children appeared to have a disability, though I was unable to determine what disability was greater than their inability to be happy.
Two children, from that room remain in the forefront of my mind. One of them is Bidi. Bidi looked like a normal one-year-old. Never mind that he was two. He could stand in his crib, climb out of his crib, though he didn't yet walk, and he smiled. He was cute. The catch was that Bidi also regurgitated most food he ate and then played in it if you didn't catch him in time. As you can guess, this posed some health concerns for everyone in the room. We opened the window and put out heads out for fresh air.
The other child, I believe her name was Elena (I confess it was hard to distinguish the males from the females at nearly any age, because no thought was given to this by the people who dressed them. Changing the diapers only helped momentarily.) Anyway, this child lay in her crib, not strong enough to get up on her own. I was particularly drawn to her because she was so quiet at first. She cried and shook violently when I held her or stroked her face. Miriam explained that it was this attention that she was not used to and, in effect, my touching her was, possibly, overstimulation.
Miriam seemed to take these things in stride, saying, in her quiet Dutch accent that it was very sad. But she had a way with all children that I found remarkable and a compassion that never faltered. Nick and I did not work at the spital much after those first 2 weeks. But it was the job that Miriam had left her family and friends to do and she was designed for it. That's not to say she never tired. I think any man or woman would become weary in such a thankless position. After all, those children do not get better and go home to their families. They were home and Miriam and the other foreign volunteers are their family.
After our 2-week "break" in Sighisoara, Nick and I took the train back to Bucharest to meet Mike. Mike is a young Romanian guy who was very interested in helping Nick and I get our radio programme on the air.
After another week or so that felt like a month, and too many "meetings", Mike got us an appointment with the Director of one of the major radio stations in the city, Radio Total. Sitting on the beggar's side of this large desk, I will never forget this bored looking gentleman asking us in choppy English "What do you want to do?" With Mike as our translator we fumbled around with a description for a radio show that was by no means ready to be presented. The summarization is simply that we wanted to play music. We neglected to tell him that nearly all of the music was Christian. Looking back now, I know we were possibly wrong for leaving this out, as it later became an issue. He didn't ask, we didn't tell. His response? "OK. When?"
We were hoping for ten minutes; we were hoping for a chance to prove ourselves. What we got was a three hour programme on Friday nights from 1 am – 4 am. We were instructed to play music and speak English. No one cared what we said, but Mike, who became our engineer, warned us that if they found out our music was all Christian, we might lose our show. With a week, we chose a wide format, a name for the programme (The Edge, after the Dallas radio station) and we cut our first commercial.
Our first night on the air was as nerve racking, as it was exciting. Our playlist that night grew from cheesy Stephen Curtis Chapman to the hardcore sound of Blenderhead. Styles were tested, and built on or dropped according to listener response.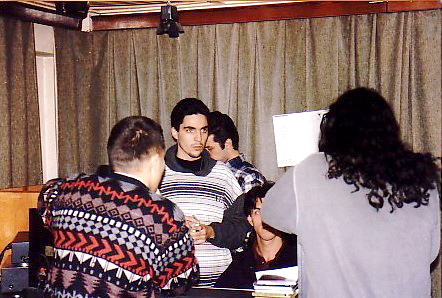 Listener response. That was about as easy to get as drinkable tap water. For the next few months it became the running joke- even on the air. Was anyone listening? We were told that they were too shy to speak English. They were too shy to call in. Just who "they" were was a mystery to me.
Picture this: Two hosts. One sarcastic, culture shocked American female; one jovial, ecstatic British male, and a Romanian "engineer" who had his own mike and an abundance of bad jokes. In the background were 2 other Romanian radio personnel watching French TV. (Translation: porn) I remember so many times during those shows, making myself laugh, thinking "Dear God, I'm a riot! I'm pulling out the lines of my broadcasting career and no one is listening! No one gets it." Well, I probably wasn't that funny, but it sure felt like it at 3 AM. And when I listen to those tapes now, I am surprised at the things I said under my breath, but loud enough to be caught by the mike. I'm still (somewhat) convinced that, had we been in America, Nick and I would have been immensely popular for a bit, though, admittedly, NOT in a Christian market. We were too tired. Too unsensored for that sort of thing.
OK, they were listening – let it be known that in 1995 Romanians liked dance, hip-hop, punk and metal. The most I had up my sleeve in my hour and a half were a few dc talk songs and some scary Eric Champion. My playlist was chipped away to a very limited collection of pop rock, rounding off with a rap song or two. Nick, on the other hand, had room to spice things up a bit.
One night we got a call from someone who asked us if we knew what we were doing – referring to our "Christian" music. The caller was pretty angry and after threatening us, with some type of punishment he ended up hanging up on us. Busted! Accused! Threatened, even. Now, I'm not the Bible toting, fire and brimstone type of girl. It was unreal to me that someone could say that playing contemporary Christian songs on the radio in the wee hours of the morning, could be a danger to anyone. (I know I'll get some e-mails about that) I mean, I was normal. Down to earth. Maybe our missionary friends were trying to convert Romanians, but I wasn't. I'm just a Christian who thought some of my friends made good music that deserved to be heard. We were met with this reaction more than a few times while living in Romania. Though it never stopped us from moving forward, it didn't help me sleep at night.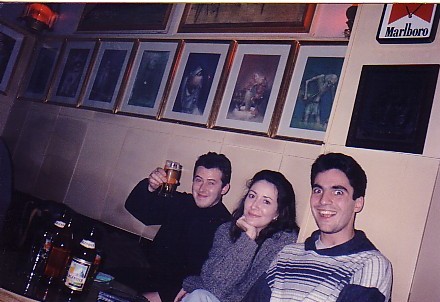 Then again, sleeping at my new residence was never easy. After we landed The Edge, Nick and I finally moved into our separate living quarters, out of the Scott's house. He moved to an apartment with a smelly foyer on one side of town. My new room was the converted attic of Viilor house. Translation: The Holy Prison of Wandling...
Posted by Penny Rene at 07:13 PM | TrackBack
7 · Oct · 2000
RO - Part IV
On August 7, 1995, I wrote the following words:
I have been gone from America for over 2 weeks now. It seems forever. I'm finally in Bucharest. It's a sad looking city to say the least. This is the only moment I have had to myself, except when I am sleeping. I've had nightmares. Not sleeping very well. It's easy to wonder if I have made a serious mistake here.
I would give anything for a normal meal. A Whopper sounds like a delicacy. Nick is being wonderful, but I still worry....The serenity prayer, eh? Great men are not born, they become. They struggle. I have never had my success handed to me. Lately, I have worked little and seen little success..... I think that missionaries come here and they see hunger, deprivation, pain an they see that they can help. Here, one can see immediate results; the feedback is constant. It makes them feel good- like they are making a difference. An they are. So why try to help kids in America? They are a selfish people I suppose. But I guess I do it because I can...
I am tired of being asked to explain my feelings. I am tired of feeling less than worthy to be here. I want a magic wand to fix all this. Of course, I also want my apartment. What I would give for a basic sandwich, an American sitcom, a real bed, a clean bathroom...
Looking back now, it all seems so silly. But it makes me think of my friend Larry, who recently quit smoking. Smoking is a hard-to-kick habit. So is eating Wonderbread or having soft toilet paper or driving your car. But I quit it all cold turkey. One day I'm a manager of a retail store in a posh mall, the next week I'm squatting over a Turkish hole-in-the-ground toilet in Sighisoara Romania, praying that I will have one moment of peace in my day. It wasn't the material things; I was hungry and tired!

The hardest part was not having anyone around who understood. I had gotten into the country through the Nazarene church. Unfortunately, I had none of the training that is usually required. I had sort of slipped through the cracks of the system, mainly because I was with Nick and my visit was planned on realtively short notice. In fact, part of my stress was that I had entrusted my safety, including living arrangements to people that I didn't know. Even if the Scott's were longtime missionaries and friends of the Swansons, they were complete strangers to me. Anyone, who knows me, knows I'm not a trusting person to begin with. As much as I appeared to be rebellious, they appeared to be unorganized and uncaring. (emphasis on the word 'appeared'.
The best thing the Scott's did was send us to Sighisoara for a week. Sighisoara is a small Greman founded town north of Bucharest. (4-5 hours by train) There, one night at Miriam's (a Dutch missionary) house Nick and I met Daniella and Carmen.
Two little girls. 9 and 12. It's hard to say who needed each other more. They were from a large family in extreme poverty. We called them street kids because they mainly roamed the streets, taking up with tourists as they had taken to Miriam and become friends. They were unkept, at times, unruly and the shop keepers hated them. Bad for business, I suppose. That first night they taught us the Romanian alphabet from our lesson books. In the weeks that followed, they, along with 2 other sisters Genica and Camellia and a host of wandering friends, taught us where to shop, where the post office was, how to get a free lunch of walnuts with a scenic view, and how to stay out of trouble. We fed them (mainly pizza and ice cream) held hands as we walked, told the shopkeepers they were with us, and told them how wonderful they were.
These children became our children. In writing this now, I must admit it boils down to Carmen. Maybe it was the way she laughed (outloud, no holding back) or maybe it was her quiet politeness, that came from nowhere. Or maybe it was that she loved me first. I would like to say that I took her and her sisters in, changed their lives. But in the months that followed, it was really them teaching us. They took us under their wing, and I truly believe I, personally, would not have made it without Carmen. (But I'll talk more about that later.)
That same 2 weeks we were introduced to the Spital. Being a poor country, there is much lacking in the area of birth control. Many children, as you may have seen on TV, end up in one of the country's many orphanages. However, because of desperate living conditions, as many children are born with birth defects or become ill due to neglect and end up at the hospital or "spital" where they spend the remainder of their short lives. Miriam was a volunteer in the spital and she took us with her to help.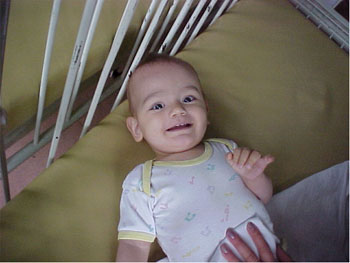 That morning we woke early and walked the several blocks to the facility. Something you may not know is that I grew up having a phobia of hospitals. I become dizzy and panicked if I had to endure one for very long. I sincerely believe this may be what cured me. The first thing that hits you as the door opens is the smell. The distinct, overpowering smell of urine, vomit and bleach......
Posted by Penny Rene at 05:57 PM
1 · Oct · 2000
RO - Part III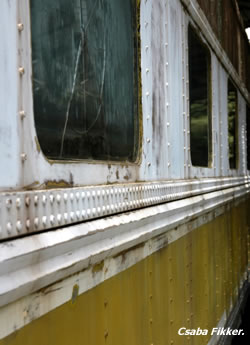 The train was cool. I had walked onto a foreign film! I had stepped into a fantasy! The seats were new and the view was a postcard. But it changed, morphed into a sad documentary. At Zurich I was scolded for putting my feet on the seat in front of me, but there were a few train switches that brought us, finally to the last car that I was sure had been urinated in.
I never have been able to sleep much in moving vehicles, but when you are sleeping on your luggage, for fear it will be stolen out from under you, it puts a whole new perspective on the traveling experience. Boarding the last train, some nice men offered to help us get our overweight luggage on. Then they demanded to be paid for their hospitality. We didn't have any money, so that was fun trying to convince them to leave us alone.
We did stop over one night in Budapest. It was a relief to get off the train, but you must realise everything was a struggle. Our bags were HEAVY. Our lives were in them. Getting from one place to another required finding someone who could speak English, figuring out a Hungarian map, trying to discern if we were being cheated by the cab driver, youth hostel recruiter and hostel clerk, not mention loading and unloading bags in 2 trips, while trying not to let any bag out of our sight.
Arriving at the Strawberry Youth Hostel, we found 2 beds, open showers and genitalia graffiti on our room walls. How much do you think I cared about the shower at that point? The place made Motel 6 look like the Hilton. But I scrubbed myself new and that night we spent almost the last of our money on a good dinner of roast duck. It was, by far, the best duck I have ever tasted.
During the next day's train ride, Nick kept pointing out the window "Oh, look at the mountains! It's beautiful!" But all I could see, all I could think of, is that I had just left paradise and taken a cattle car to hell. I questioned my sanity. Culture shock wasted no time and spared none of my 5 senses. I felt like an idiot. Nick, because of his experience as the son of missionaries, had an amazing ability to see the beauty in chaos. He saw the bigger picture, how this was an opportunity to grow, to see the world.
I looked out that window as we pulled into Bucharest and saw, what appeared to be a war zone. Dilapidated buildings, smog, peasants, if you have seen pictures of war torn Bosnia..... well, this wasn't as bad, but it seemed that way through my eyes. I was scared.
After waiting in the Bucharest train station for a bit, Andrea Scott, a friend of Nick's picked us up. Andrea is the daughter of missionaries as well and it took me all of ten minutes to discover she did not relate to my traveling complaints. This was her life and she loved it. Such as it was with all the missionary kids or 'MK's' I encountered along my journey. I was beginning to think the title "missionary" meant "superhuman".
We also discovered that first week that the radio station that we thought would welcome us with open arms, wanted nothing to do with us. A misunderstanding that is still unclear today, I was told that Christianity in Romania is extremely conservative and that our Christian music was considered blasphemy. Our task would be to start a radio programme from the scratch.
Posted by Penny Rene at 05:50 PM | TrackBack
29 · Sep · 2000
RO - Part II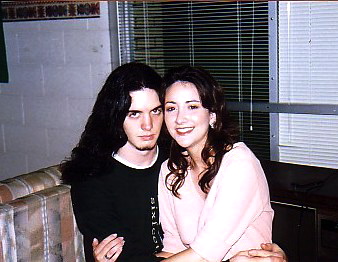 There is something very surreal about being in a new country. It can be like stepping into a fairy tale or a nightmare from your childhood. As I sat there, alone in the Zurich airport I realised not one person passing me could possibly know my name. I could be anybody. No one knew anything about me – good or bad. There were no expectations, and best of all, no one that did know me back home would be able to find me unless I wanted them to. That, my friend, is freedom.
After trying the information desk a few times, Nick did finally find me. It was strange seeing him, knowing that I would from this point on, be trusting him with my life, yet we had only known each other for a short time. But we were as close as two people could be who came from entirely different backgrounds. We were completely taken with each other and excited about our adventure.
Back then Nick and I were romantically linked. We had dated some before I left Oklahoma and, in my mind, this trip was also a test for our relationship. Nick had made it clear that his intentions were to graduate from college and work in foreign missions. I was in love with him already, and thought this trip would be a good way for me to determine if I was cut out for a similar role. To complicate matters, I was about to spend a few weeks with his family, whom I had never met.
To start off right, he took me to an airport restaurant to have a glass of Rivela, a soft drink made from milk extract that tasted like a cross between ginger ale and creme soda. Looking back now, that drink was a good symbolic gesture for the rest of my trip- The same, only different. That is the way of the world, no matter where you go. Things are pretty much the same – only different in ways that are difficult to describe.
(Possibly, this is where the idea of using "milk" as the name of my artist management company and these memos came from) To be sure, Nick was thrilled to be showing off this lovely place that his parents had lived for 5 years, but I know he was equally nervous about how I would adjust.
The Swanson's lived on the campus of ENBC (Eastern Nazarene Bible College), which is located in Busingen, just a walk from Schaffhausen. Schaffhausen is a charming village, often featured in Switzerland guide books. It attracts a lot of tourists; however, it is incredibly expensive to do much else besides float the Rhine river. After meeting Dwight, Kathy, Rachel (Nick's sister who was about 13 at the time) and his best friend, Jon Burrows, we crossed the German border to do just that. Since I'm not much of a swimmer and I had jet lag, I stayed on the beach area to relax. I felt like I had moved into a theme park. Everything was so different and beautiful. My journey, in those first days, resembled more of a holiday.
The first challenge I faced, believe it or not, was there in Switzerland and it stemmed from an unlikely source: other Americans. Before leaving America, I believed that because the Swanson's were American, I would be able to relate to them, that they would be a source of comfort to me because they too had once been in my shoes. But Dwight and Kathy had not lived in the US for 15 years. Not only did their behaviour and opinions of the world reflect this, but so did their humor. I was someone with no prior education, experience or warning about cultural conflict. Only months before I watched on national television my hometown be ripped open by a terrorist bomb. I could not have been in a more patriotic mood. Any slight, however small or unintentional, felt like a glaring insult to me. It was the first time in my life that someone suggested to me that being a US citizen meant anything but cause for celebration.
There was the added stress of little things. Like the fact that I could do nothing as I had done it only days earlier. Do you know what happens to a person when sleeping, eating, thinking and speaking patterns are all interrupted? Well, let me put it like this: If your whole life you have been a meat eater and then one day, without warning, you will not be able to buy another piece of meat again, only veggies, it will be a shock to your system. When it comes to adjusting to a new life, that is called culture shock. And believe me, no one is immune.
All day we take in information and process it through our eyes, ears, nose and mouth. What's going in us affects what comes out of us. And if there is no one there to tell you that your reaction to all these new things is normal, that you will actually change and become the kind of person who can handle it, well, you start to wonder if you can handle it. The Swansons, who were packing up their own lives to move to an unfamiliar place were in no position to cater to an angry, confused young woman who probably appeared to be pretty ungrateful to their hospitality. Nick's father, Dwight said he liked my "German quality" meaning that he thought I was a blunt person. I took it as a compliment.
To top off my less than intelligent introduction to life as a missionary, Nick wanted me to hike the Alps with him while I had the opportunity. It was hard going up, but he wanted me to see the view so much, I drudged on until I thought I would collapse. (I never did make it up that freaking mountain, though it sure seemed like I had hiked for days.) A sniffle that had began the day before turned into a full blown head cold and by the time I had thrown one leg in front of the other to get back down the mountain, I was soaking wet and cold from the rain. Never mind the fact that I could hardly move my legs, I was now delirious from a fever!
What then, do you think happened? Yes. The car broke down. I have a very vivid memory of sitting in the car while Nick went for help. I felt so far from home, so unsafe and I started to get more than a little paranoid. I actually got to the point where I had conjured up images of Nick getting kidnapped by a Swiss German and my trying to flag down another car and convince someone I wasn't a desperate drug addict, but merely an innocent American with a head cold who needed help. When Nick finally made it back to the car I was ecstatic. I think I even thanked him for being alive. He just laughed, no doubt wondering what kind of freak he was about to traverse Europe with.
A few days (?) later, after having tea with a friend, Abraham, at the college, we boarded a lovely train, with accommodations similar to a passenger airplane from home to begin our 2 day journey to Bucharest. I was frazzled, but excited. Broke, but happy. Terrified, but willing to go. And I can tell you, with great certainty, that I had no idea what was ahead of me. Not a clue.
Posted by Penny Rene at 05:31 PM
24 · Sep · 2000
RO - Part I
Almost five years ago, in the summer of 1995, I boarded a plane in Oklahoma City and flew to Zurich to meet my friend of 4 months, Nick Swanson and his family. The Swansons are Americans who were living in Switzerland while Dwight, Nick's father taught at Eastern Nazarene Bible College. It was only a short stay there for me because the family was relocating to the Philippines by decision of World Missions.
From there, Nick and I took a series of trains that led through Austria, Hungary and then our final destination, Bucharest, Romania.
There we started a three hour radio programme called "The Edge" on Radio Total 94.2 FM, speaking english and mixes of the 450 contemporary christian music cds we had brought with us. Though we were there to host the radio show, we were under the guise of "humanitarian aid" with the Nazarene church and were considered by that organisation to be NIVS or Nazarenes In Volunteer Service. (No, I'm not Nazarene) But I lived, for a time, with some missionaries in Bucharest and my last month I moved to a small village north of there called Sighisoara.
While I was in Romania I, like many of the missionaries, had different jobs. A summary that might help you understand is : Radio producer/host, orphanage caregiver, street children's worker and assistant to Professor Dorothy Tarrant from ENC of Boston.
It took me 3 months to get over the shock of my new life. I was in Romania for only five months. The reason I am writing about it now is because after five YEARS, I have found I am STILL profoundly affected by my time there. I think it is time for me to tell you what happened.
Over the past 5 years the most common question that people ask me about Romania is "Why did you go?". Oddly, the answer to that is the same reason I have always had for taking other major steps that many people don't: Because I can. I was living in Nashville, working at the Limited clothing store in a mall. It's that simple. I had moved to Nashville to be part of the Christian music industry, but like many of people who try that, I found a lot of people with good intentions who cannot live up to their promises.
In short, I had been promised a job at a record label, but instead, I was driving almost 2 hours each way to work at a mall. I was physicaly and mentally spent by the time Nick Swanson, a dj friend from OKC, asked me to go with him to start a radio show in Romania.
I remember our phone conversation. He had been telling me about his plans, asking advice about the logistics of being "business minded". I don't know who suggested it first, but I do remember trying to think of a reason why I wouldn't go. There wasn't one. My life was a wreck. I had nothing to lose.
After that conversation, I must've told myself every waking hour for the next few months how crazy it was. People like me do not go to a foreign country for any reason but vacations. I could'nt even locate Romania on a map the day I decided to go there.
You can imagine the responses I got from family and friends. My parents have always tried hard to support whatever I want to do, but they were scared for me; worried maybe. But the common reaction from friends was a mixture of worry and envy.(Mostly worry (: Kind of like: How crazy are you? You've really lost it this time.
I guess, in some ways, they were right. It takes someone who isn't too attached to the reality of their present life to be able to leave it all behind for the unknown. Detached - that was me. Romania - definitly the unknown.
I left Nashville at the end of May, I think. I moved to Springdale Arkansas to stay with my longtime friends/family, Jeff & Kathy Payne and their children Robert, Jamie and Callen. Callen, who was 5 or six at the time, gave up her bed for a month for me. I worked with Kathy, for a local arts and crafts guru. I twisted wire around a stick to make it curly. That wire was used to hang the various decorative things the artist created. Many a country homes are sporting my hanging wire creations!
That month was a wonderful visit with the Paynes, as Jeff had been my youth minister years before and I then got to know he and his family on an adult level. I saved what little money I made for my trip. Nick had generously bought my plane ticket.
After a short visit in Oklahoma City, my parents drove me to the airport. My mom was trying to be as helpful as possible, but my dad had not said much during my visit or the ride to the airport.
You know when you have done something so outrageous that you cannot help but laugh? I had a hard time not getting hysterical....Even as I boarded the plane I was thinking "I have probably lost my mind."
I had never taken an international flight before, so everything was new and a little unnerving. From letting go of my luggage (wondering how it would make it there) to having passport suspiciously examined, I was like a kid on her first day of school. On the last leg of the trip when our safety instructions were explained in German and English, it started to soak in that I was a long way from home.
When I got off the plane in Zurich, Nick was suppossed to be waiting for me. He wasn't... It dawned on me that I didn't know how to even ask where the bathroom was, let alone place a phone call to the Swanson house - wherever that was. I didn't even have much cash. I did the only thing I could do. I placed my suitcases in a clear spot, sat down on them and waited.
penny rene
Posted by Penny Rene at 05:12 PM